Show Up and
Paint
Where creatives of all kinds gather together to
paint

(or draw or collage) in the spirit of nonjudgment and creative freedom

.
You know how wonderful it can feel to roll your sleeves up and get the paint brushes out, but so often creative play gets put on hold, stays on the shelf undone. Aargh!
It can feel overwhelming to find the time and space to paint if you've got any fear around being "good" or if you have a life that easily fills in with work, family, other "stuff".
How do you get started? Once started, how do you make your creative life a real part of your schedule? And where can you turn if your inner critic gets a bit overzealous?
Wouldn't it be miraculous to have three afternoons a month scheduled to gather with your friends and paint in a safe and judgment free space?
And imagine this—during your actual painting/ creating time you have/had your own creativity coach by your side…
This is exactly what Show Up and Paint gives you.
Flourish in the safe space and group energy
Show Up and Paint is based on the notion that the strength of our group energy makes us individually stronger. As we consistently show up on Tuesday afternoons, we witness each other making personal creative breakthroughs and we share the moments that challenge us. We connect in a way that brings us ever closer to the awe and wonder we crave.
Some people in this tribe identify as beginning painters, others paint regularly and have for years. All of us delight in the spirit of Beginners Mind–allowing ourselves to be child-like and unlabelled.
You don't have to go it alone.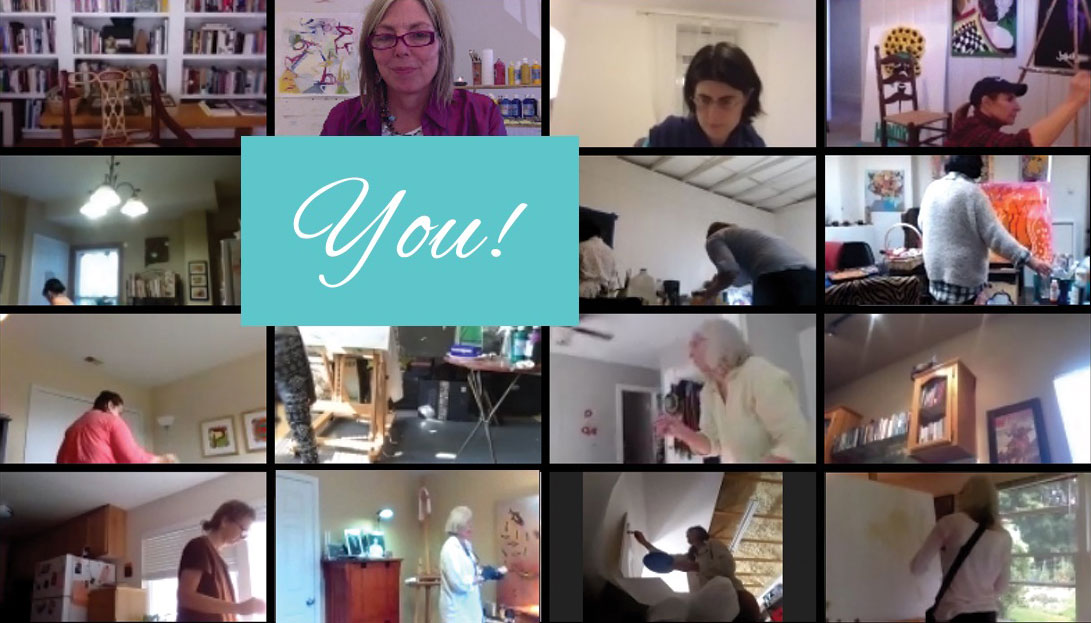 All you have to do is
show up
This becomes your container of time, just for painting (drawing, collaging etc). All you have to do is turn off your electronics, leave your to do list behind, and show up, and you will have a creative life you have been dreaming of.  Even if you don't feel you really have the time for painting,  you know you'll go crazy if you don't give yourself a creative outlet and this class makes it all possible. These 2.5 hours might be the only time you paint or have "you" time this week. You don't even have to spend time in the car getting to class–now that's incredible!

Prioritize your creative life
Having your painting time scheduled 3 afternoons a month is an incredible relief to your inner artist. No matter how busy you get in any given week you will have this time set aside to tune into YOU and your creative energies. Even if you have to miss a class every once in a while it can feel like a huge achievement making this kind of commitment to yourself.
Jumpstart your creative juju
There is something magical that happens when you tap into group energy while creating. It's as if there's more voltage available and the sense of tribe opens doors you didn't even know were closed. Things happen in a group that simply couldn't happen on your own.

Tuning In
Connect with more than some idea of a pretty painting. There's a world of energy living inside you that would love to be expressed and engaged. Julie facilitates each class in a way that helps you tune into your heart and spirit and life beyond the superficial–which is probably what called you to painting in the first place.

Actually make some paintings
It is amazingly satisfying to look back at all the paintings (drawings ,collages, etc.) you have done over the months. You will have something to celebrate, love and share with others if you like. Honestly, my Mom's sketchbook from 50 years ago is one of my favorite things in her attic.
A Few Sample Paintings Created During Class
What is your favorite part about class?
"All of it–the intro questions, meditation, sharing, input from Julie, and the committed creativity time."
"Connecting with the group and giving myself the space to paint"
"Not one favorite thing, but several: the structure of meeting regularly the community of SUAP the open, encouraging atmosphere created by Julie"
"I appreciate the space together where it feels that wherever we are inside or with the process of painting is welcome and I appreciate feeling a part of a group (Belonging)"
"Sharing our process/progress with the rest of the group. Hearing what others are doing.".
"The meditation at the beginning."
How does class meet? Zoom!
Using Zoom (a video platform), we all group video chat and paint together.
You can join the class from your laptop, desktop, or smartphone.
You will want to have the strongest internet connection you can get.
It is up to you if you paint in the same room as your computer/device.
The Shape of Our Time Together
Gathering
We start and finish the class together as a group.  Class is designed so that we also take a short pause from painting and gather midway to share what is happening and to receive generative feedback if desired.
Painting Time  
You will have at least 90 minutes of dedicated painting time. It is up to you if you paint in the same room as your computer/device.  
Coaching Time  
As part of your membership, you have 30 minutes of one on one time with Julie every three months.  We can look at your paintings together and/or find new ways for you to break through into new ground. You can also ask Julie questions during class. 
Facebook Group 
We have our very own private FaceBook group for this class.  It's a lot of fun. Any of you can post photos of your paintings here as you wish.  For those of you who don't Facebook–no worries, it's optional.
Materials List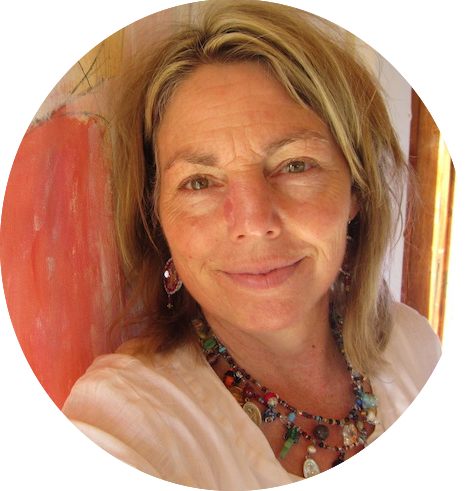 Show Up and Paint is a dream come true
I feel most at home in creative expression and the blank page.  I journal, I draw with charcoals, I paint large scale with acrylics.  I have been leading sold out in-person intuitive painting workshops since 2005 in the Santa Fe NM area.
I am also a highly experienced and ICF certified life coach who knows how to listen and delights in creating spaces where others flourish. 
I created Show Up and Paint because gathering like-minded spirits together like this is a dream of mine.  I feel it is brings my strengths as a coach and an artist together in a beautiful way.  
"Let's start with courage, add a lightness of being and never ever underestimate the power of play."
"Working with Julie, I feel much freer to just let whatever happens be alright.  In the regular art classes I have taken, I have more of an expectation as to what I want to create and my final product to be. Julie creates a space where whatever shows up is perfect and this is profoundly liberating to me."
"Dear Julie,
In Show Up and Paint, I feel really supported that I am not alone and I can step into my painting and have that support at my back but also have my own space to do it.Thank you."
Here's what to expect:
Each session starts with a short meditation and an inspired poem, then moves into dedicated painting time with check-ins, and optional feedback time.

Create in any medium you like. People currently are working in acrylics, watercolor, pastels, pencils, etc…

One thirty minute individual conversation with Julie every three months of membership. We can look at your paintings together or find new ways for you to find more fulfillment in your creative time. Julie is also available to talk to during class during certain windows of time.

A tribe of really kind fellow painters who help you appreciate and love your own work.
Here's what won't happen:
No one will tell you they like or don't like your painting.

You won't receive technical instruction.

I won't teach you to paint like me. This is about you discovering your own way with paint and the creative process.
I'm ready! How do I get started?
Here's the scoop. My intention is for this group to have a strong feeling of continuity. This is why I am asking for a minimum sign-up of three months and offering substantial discounts for six month and annual subscriptions.
This is an ongoing class – start anytime.


Get started with 3 months for $132/month or
Sign up for six months averaging only $108/month. (This is the most popular package)
Or give yourself a whole year of committed painting time for $1224.

We meet:
Live and Online Via Zoom
In the comfort of your own home or studio
First Three Tuesdays of the month
12-2:30pm Pacific time (3-5:30pm EST)

3 Month Subscription
Full Payment
This option gives you 3 months. Your average monthly cost is $132. No PayPal account required. To pay in monthly installments, see below.
6 Month Subscription
full payment
This averages out to a fraction under $108/month over six months. Enjoy our most popular package and save $145!  
12 Month Subscription
full payment
The biggest discount and a great way to settle into a year's worth of painting with the tribe. Averaging only $102/month.
3 Month Subscription
payment plan
Charged 30 days apart through your PayPal account. If you don't want to use your PayPal account or don't have one, pay in full above or contact us.