Show Up And Paint
with your host Julie Claire
An online tribe finding freedom in paint
Where: Live and Online Via Zoom
In the comfort of your own home or studio
When: First Three Tuesdays of the month
12-2:30pm Pacific time (3-5:30pm Eastern)
This is an ongoing class–start anytime!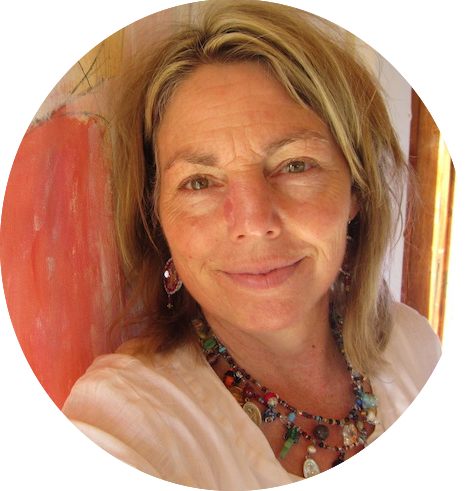 Show Up and Paint is a tribe of online painters who tap into the magic and flow of their creativity regularly, without having to walk forty days through the desert to make it happen.
As we unfurl, we flourish.
Do you dream of having a thriving painting life at home?
This class is about birthing that dream with the help of group energy and having a friendly structure in place for you to lean on.
It can be quite revelatory to see how others struggle with the inner critic as much as you do.
It can be a huge relief to see that you're not the only one who doesn't "know what they're doing".
It can be a lot easier to find your courage to try something new when you see others going for it too.
The first three Tuesdays of every month
No matter what else is happening in your life– You will have this space and time to:
Jumpstart your creative spark by sharing the space with other painters. It's a great motivator seeing others and knowing they are painting at the same time you are.

Connect with more than your idea of a pretty painting. There's a world of energy living inside you that would love to be expressed and engaged.

Transition into a place of allowing, play, and flow through centering mediations and poetry. You don't have to feel inspired or "ready" when you arrive to class–

just show up

. Creativity loves presence.

Ask Julie Questions about all the things that come up when you paint.

Share your painting in a way that is both courageous and super easy and lighthearted. It's a life changer–being supported in coming out of hiding, gently.
The Shape of Our Time Together
Gathering
We start and finish the class together as a group and for those interested in asking questions-we also gather in the middle of painting time.
Painting Time
You will have approximately 90 minutes of painting time in the middle of each class. It is up to you if you paint in the same room as your computer/device.
Coaching Time
I will open up specific time during our class when you can ask me a question about your painting process. We learn so much from each other. This is part of the design of the class–to be able to witness each other's discoveries.
Facebook Group
We have our very own FaceBook group for this class. Any of you can post photos of your paintings here as you wish. People who are connecting via a phone can upload their painting pictures here since they won't be able to share them on the screen during class. And for those of you who don't Facebook–no worries, it's optional.
Materials List
Zoom
I know, it's a miracle. It really works!
You will receive a password for the class but happily won't need a username. It's quite simple.
The first time you click onto the link I send you, Zoom will have you download the software in a very quick download. Clicking the link will bring you directly to our "meeting". You can be on your laptop, desktop, or smartphone.
You will want to have the strongest internet connection you can get.
"Dear Julie,
I'm delighted to express how invaluable it has been painting with you once a week. In addition to providing a structure of time set aside, the intersection of painting and work is real and true; perhaps even more than an intersection: a mirror. I have found, over and over, a new relationship is revealed whether to pushing boundaries or experimenting anew. Having "my time" with your focused guidance has opened me up as an artist in front of the canvas and in my creative work outside the studio. Thank you."
Is This You?
You've taken a painting workshop or retreat with me in the past and really loved it. Now that you're home you can't find a situation similar and really want more.

You don't currently have a tribe of creative people to work with. You deeply value the feminine, your intuition, and would like to come together with others who do too.

You dream of having an active painting life at home but need some structure and a little extra impetus to get it going.

You don't really have the time for painting, but you know you'll go crazy if you don't give yourself a creative outlet. These 2.5 hours might be the only time you paint or have "you" time this week.
Working with Julie, I feel much freer to just let whatever happens be alright. In the regular art classes I have taken, I have more of an expectation, as to what I want to create and my final product to be. Even though in both situations, I am dealing with my own expectations, Julie creates a space where whatever shows up is perfect and this is profoundly liberating to me. Gaye Roth
Here's what to expect:
Supportive group energy to encourage your adventurous spirit

A healthy dose of independence: Everyone works on their own paintings of various sizes and styles

Some coaching moments from Julie midway in the painting process for those who have a question or want to try something new.

Here's what won't happen:

No one will tell you they like or don't like your painting.

You won't receive technical instruction.

I won't teach you to paint like me. This is about you discovering your own way with paint.
Here's the scoop.  My intention is for this group to have a strong feeling of continuity. This is why I am asking for a minimum sign-up of three months and offering substantial discounts for six month and annual subscriptions.  
This is an ongoing class- start anytime.


Get started with 3 months for $132/month or
Sign up for six months averaging only $108/month. (This is the most popular package)
Or give yourself a whole year of committed painting time for $1224. 

We meet:  
Live and Online Via Zoom
In the comfort of your own home or studio
First Three Tuesdays of the month
12-2:30pm Pacific time (3-5:30pm EST)

3 Month Subscription
Full Payment
This option gives you 3 months. Your average monthly cost is $132. No PayPal account required. To pay in monthly installments, see below.
6 Month Subscription
full payment
This averages out to a fraction under $108/month over six months. Enjoy our most popular package and save $145!  
12 Month Subscription
full payment
The biggest discount and a great way to settle into a year's worth of painting with the tribe. Averaging only $102/month.
3 Month Subscription
payment plan
Charged 30 days apart through your PayPal account. If you don't want to use your PayPal account or don't have one, pay in full above or contact us.