Do you want a creative life that is unstoppable?
Find your energy, follow the flow.
Consistency. Nonjudgmental feedback. Step beyond your creative bubble.
We will find ways of keeping your creative life moving.
Together we will imagine how many sessions you want to sign up to begin with.
We can meet in person (when pandemic allows us) via phone, or Zoom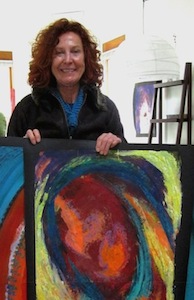 Share your process and your paintings
You will receive feedback that has you relaxed and ready to get back into the studio.
We will appreciate your paintings with kind eyes, both as a process and a creation. What a relief!
You will stop comparing yourself to others so much and discover a bolder, more authoritative you.
You will bring the freedom you find in our time together into your next painting session, reenergizing your work.
As you experience being "seen" in this safe and nonjudgemental space, your creative life will thrive.
If at the end of 6 sessions, you want to continue, you can–simply sign up for another set of 6.
Conversations at the heart of the matter
You will develop a consistency in relating to your work–we meet even if you don't have anything new to share. When we meet, we talk about what's up for you and what needs attention in order for your creative live to keep unfolding. Sometimes you've been really productive and you have art to share with me. Other times we meet and clear the way for you to get back on the horse. This is not a straight path, but it's a magical one!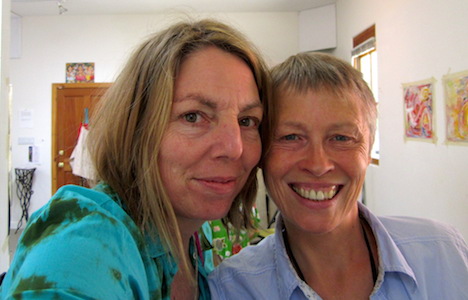 You Being You
I work with beginning and seasoned artists.
Some have dreams of showing their work, others want to stay focused on the process of making art, but everyone I work with wants to experience freedom. Some painters try to work every day to find their rhythm. Others find that two days a week in the studio and they are on fire!
This ultimately is a path of becoming more of who you already are—that which you know inside you is possible if you could somehow allow it to manifest.
"For me finding the type of "work" you do was like finding someone in a foreign country who speaks the same language you do. There is an immediate deep breath and relaxation when that happens.
Specifically, I love the way you keep the mood informal but have a deep focus and ask such interesting probing, thought-provoking, motivating questions. For my temperament you allow me to speak and give healthy pauses in our conversations. I also feel your courage, wisdom, experience– as you trust process to REVEAL.
For me you share some of your own questions, experiences that helps to make me feel secure and part of the "team".
Over the years I have created my own definition of a professional or expert. Someone who can relatively effortlessly come along side another and meet them "wherever" they ARE. beginner; intermediate; advanced. You do that."
"..While the paths and outcomes of creative living will vary wildly from person to person, I can guarantee you this: A creative life is an amplified life. It's a bigger life, a happier life, an expanded life, and a hell of a lot more interesting life. Living in this manner—continually and stubbornly bringing forth the jewels that are hidden within you—is a fine art, in and of itself. Because creative living is where Big magic will always abide."
Elizabeth Gilbert quote from her book
Big Magic.
Big Magic

is one of my favorite studio companions. Great stories and enjoyable writing, pointing you beyond your fears and into the flow of creating. It's as close to a guidebook as I get. Definitely worth reading.
"I woke up the other morning thinking that you played such an instrumental role in me getting to this place. In a way, the exhibition should be dedicated to you. Thank you so much for the great coaching, and support. I would say too, that it felt a bit like a collaboration with you — I have gained insights to the nuances of collaboration, and the many ways to work with others."
"Working with Julie over the past five years has opened new paths for gaining access to the creativity inside me, just behind the veil of daily life. Interacting with her opens my mind and heart to what is alive and important right now. This often provides a fruitful start point for painting. And then, when I feel "stuck" her real time conversation and prompts help get and keep me moving again. A deeply inspiring relationship."
Contact Julie to talk about how you might come together.  Some people are ready for an ongoing transformative  creative partnership or an in depth one-on-one creative retreat.  Others perhaps need a one-session tune-up or break-through session.