Show Up And Paint
Free, Online Open House
With your host Julie Claire
Where:  Live and Online Via Zoom
In the comfort of your own home or studio
When:  Tuesday, May 29, 2018
12-2:30pm Pacific time (3-5:30pm EST)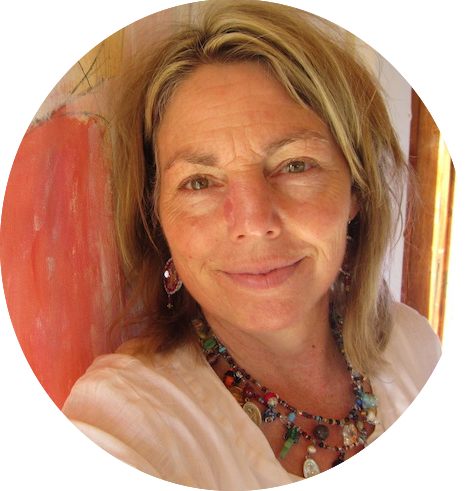 Do you dream of having a thriving painting life at home?
This open house is about birthing that dream.  
Birthing is not about checking something off a list.  Your dream of painting is more than that.
You want to unleash your creativity and free yourself up from your inner perfectionist.  
You want to transform into someone who plays.  Someone who takes risks with color and shape.  Someone who schedules creative adventure into your weekly life.
Will you actually get down to painting in this Open House?
You Betcha!
You will have approximately 90 minutes of independent painting time as well as some guided meditations, creativity conversation and nonjudgmental sharing.
And if you get stuck, scared or want to ask me a question, you will be able to talk with me during your painting time. 
Why an online class?
For years, I have offered intuitive painting workshops and retreats, and after each one, participants have asked me how they can continue painting with me. I've been running weekly in-person painting groups in my Santa Fe art studio for a while now, but these are impossible for my out-of-town clients to attend. That's where Show up and Paint comes in.
Originally, I only offered online painting session to people I had already worked with, but since then I've found that this partnership works brilliantly with people I am meeting for the first time.
Which is why I'd like to invite you to my free Show Up And Paint Online Open House. Whether we're meeting again or for the first time, I want to introduce you to what happens when you enter a safe, non-critical space to paint. Beginners welcome!
SIGN UP FOR THE FREE OPEN HOUSE
MATERIALS LIST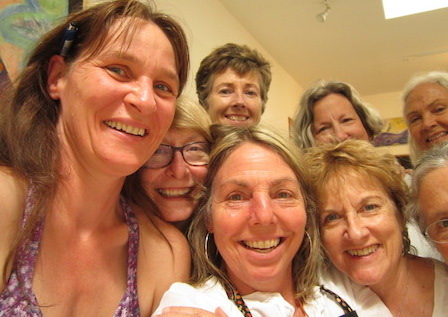 Here's what to expect during the free Open House:
Delicious group energy to encourage your adventurous spirit

A healthy dose of independence: Everyone works on their own paintings of vaious sizes and styles

Guidance when you have a question or want to try something new.
Here's what won't happen during the free Open House
I won't tell you what is good and what isn't .

I won't give you technical instruction on how to paint

I won't compare you to other painters

I won't teach you to paint like me
Does it really work to do this online? And what is Zoom?
I know– it's kind of a miracle. But it does work.
I've been working online individually with people for around five years already. First it was on Skype. And that worked just fine. But sometimes on Skype we would get stuck needing our usernames or passwords and didn't have them accessible. And sometimes the connection wasn't so good.
Zoom is more stable and much more user friendly in my experience. The first time you click onto the link I send you, Zoom will have you download the software in a very quick download. Clicking the link will bring you directly to our "meeting". You can be on your laptop, desktop, smartphone. You will want to have the strongest internet connection you can get.
Yes, Julie, I'd love to attend the free online Open House!
Wonderful!  Fill out the form below and I"ll send you everything you need to prepare in order to Show Up And Paint on May 29th, 2018.  12-2:30pm Pacific Time. (3-5:30pm Eastern)
It may take more than a few minutes for this email to reach your inbox.  Stay on this page after you register and receive information then too.  Please contact us if you do not receive your Open House info. within an hour. Thanks!
Download the list of materials you'll need to gather ahead of the free Open House
List of Painting Materials