You know you're creative…
…and you really want painting (or collage, drawing…) to be part of your weekly life — you feel so much more alive and satisfied when it is.
Wouldn't it be miraculous to have three afternoons a month scheduled to gather with your friends and paint in a safe and judgment free space?
And imagine this — during your actual painting/creating time you have your own creativity coach by your side!
This is Show Up and Paint Tuesday Afternoons
This tribe is a gathering of mystics, healers and renegades and people who simply want to tune into their inner artist with joi de vivre on a consistent basis.
We embrace beginner's mind and child-like wonder together. Some are painting for the first time, some are experienced painters wanting to share in this beautiful space.
We meet three times a month so you experience dreamy consistency and momentum that sings. You will delight in seeing what others do week to week and will be inspired by them to try new things.
We Meet…
Live and Online Via Zoom
In the comfort of your own home or studio
(It's okay if you can't paint in the same room as your computer/device.)
First Three Tuesdays of the month
12-2:30pm PST / 3-5:30pm EST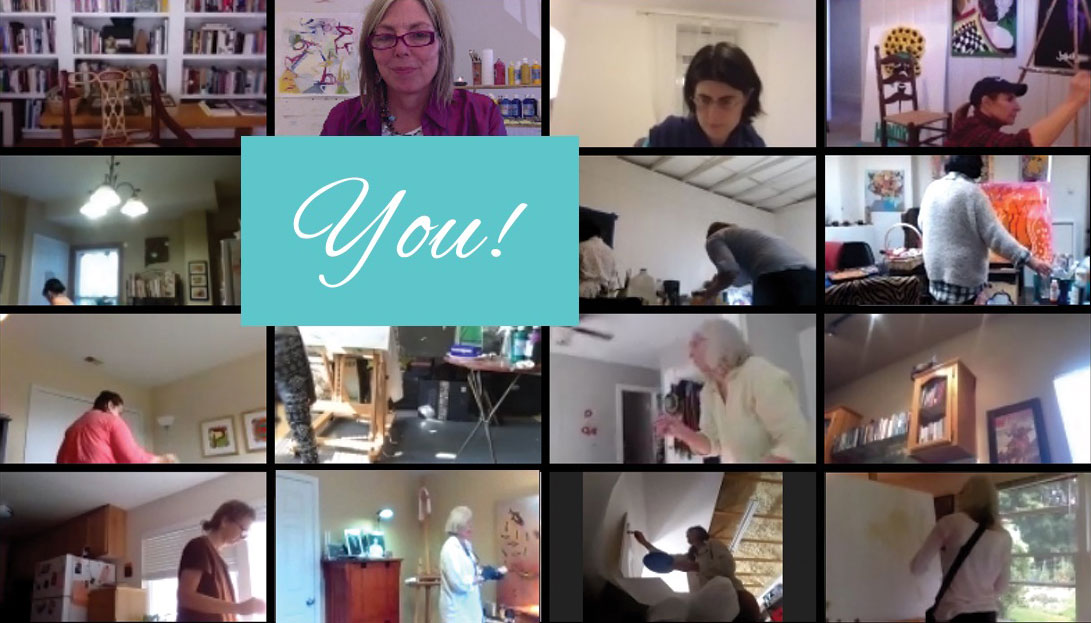 2.5 hours of creativity for first 3 Tuesdays of each month
30 minutes 1:1 with Julie every 3 months
Small and personal group to share your creative journey
Enjoy seeing what others do week to week
Private facebook group for creative sharing
3 and 6 month packages available
"I am delighted to express how invaluable it has been painting with you once a week.. Having "my time" with your focused guidance has opened me up as an artist in front of the canvas and in my creative work outside the studio. Thank you."
Every 3 months receive 30 mins of 1-on-1 time with Julie!
With your Tuesday membership you also receive one on one time with Julie, a highly experienced ICF certified life coach who has mentored hundreds of people over the last 15 years and who knows how to listen and delights in creating spaces where others flourish. Julie will look at your paintings, talk about any questions, and help you break through into new territory.
3 Mo. Subscription
Monthly Installments
Charged 30 days apart through your PayPal account.
3 Mo. Subscription
Full Payment
This option gives you 3 months. Your average monthly cost is $132. No PayPal account required.
6 Mo. Subscription
Save 19%! (most popular)
Enjoy our most popular package and save $145! This averages out to a fraction under $108/month over six months.   
Not sure if Show Up and Paint is for You?
Let Julie know you'd like to try the class once before you join.
Any questions or concerns?
Julie's an open book. Send her a message; she'll get back to you right away.