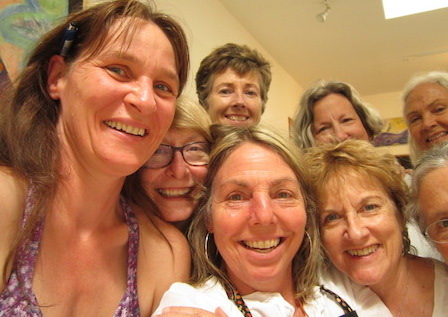 Creativity Lab: Wednesdays Mornings Online
Intuitive Painting, Creativity & Conversation
Now 10am-noon Wednesday Ongoing Group- Online
We are a small tribe of women gathering together in sacred space, sharing poetry, check-ins, creativity conversations and most of all–dedicated intuitive creative time (paint, pastels, collage, you name it…).
Beginners welcome
You'll be surprised at what you can do!
If you live in the area and are interested, try it once and see if it is for you–$35 initial visit. Simply contact Julie to confirm there is space and to arrange your initial class.
"Being in your weekly class has been an astonishing journey. I came with the desire to open up my creativity, not knowing what to expect. Now, I can tangibly see and feel my progression from the beginning to the present. I am truly a different person from week to week. When I can allow myself to paint without design of any kind, with no pre-conceived idea of how it "should" look, or that it must be beautiful, and in the end find that I have actually quite innocently put onto paper an important and satisfying expression of my inner self, which I can then recognize but had no clue at the time that I was doing it—this is a breakthrough of epic proportions for me. In the safety and peacefulness of the atmosphere which you provide I am blossoming into who I truly am. And, to find this new freedom extending into all areas of my life is a great and unexpected bonus. How can I thank you? It is a gift beyond measure. I cannot even imagine where I will go from here and I'm so excited to find out where this journey will take me. With much, much gratitude,"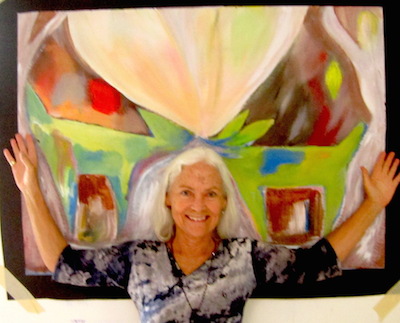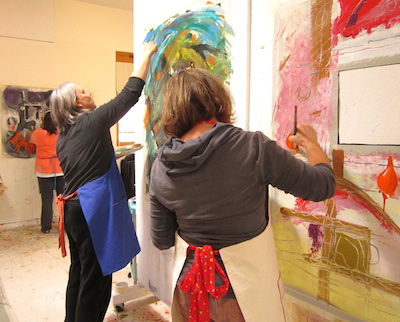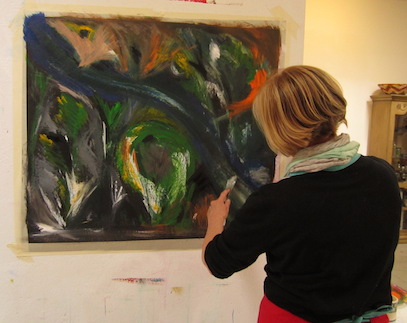 What can you expect?:
A mid-week experience that connects you to your core.
2 hours of safe and sacred space, no chit-chat, but lot's of fun. 
Delicious group energy to encourage your adventurous spirit
A healthy dose of independence:  Everyone works on their own paintings of various sizes and styles.
Guidance by a creativity coach when you have a question or want to try something new.
Dedicated creative time plus selected poetry and creative-warm ups and sharing. 
No "critiques" ever.  ( Never ever will this happen here)
No technical instruction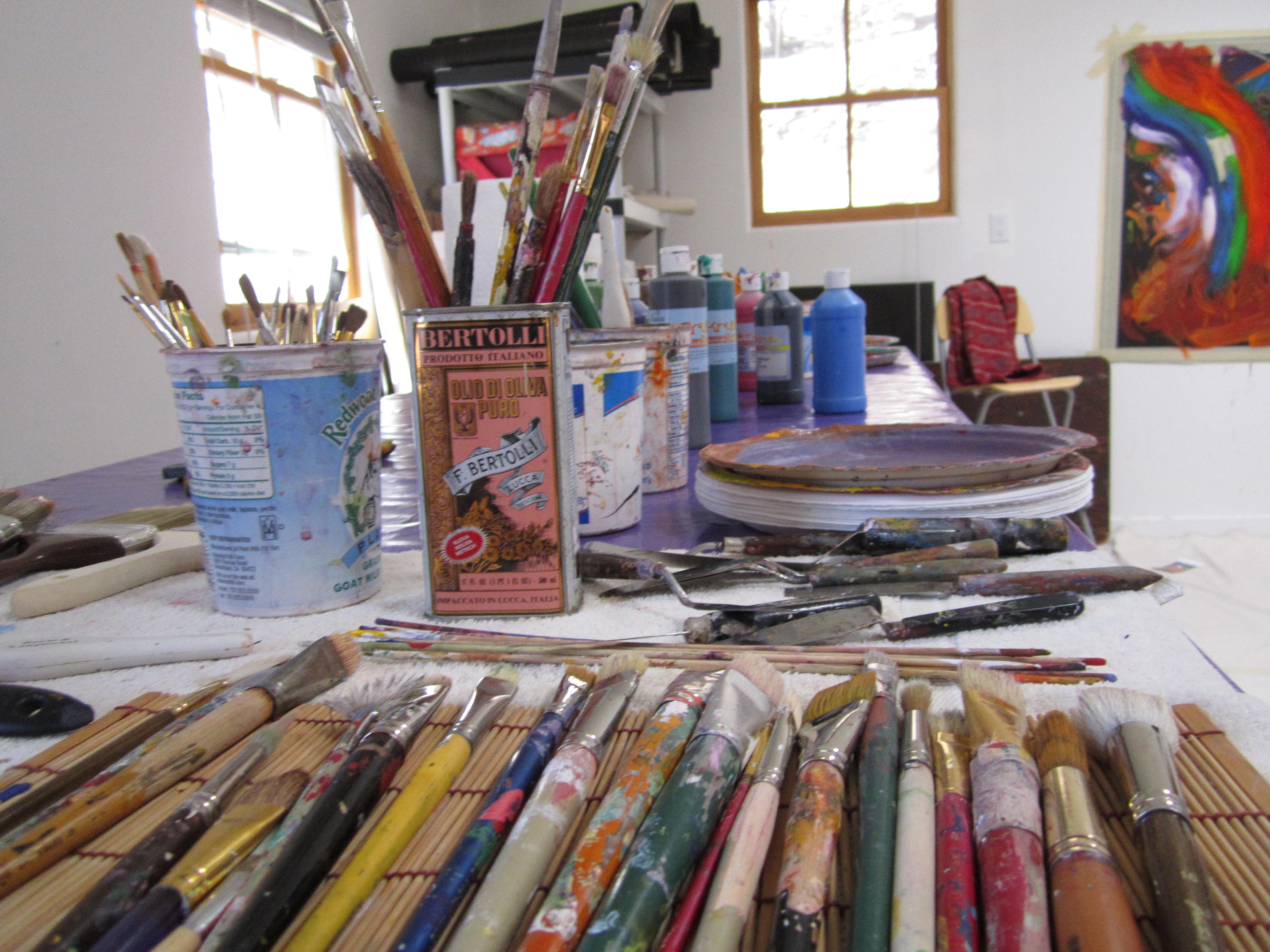 Materials are delightfully crude and accessible. No need to be intimidated or feel wasteful.
As an in person group, I always encouraged people to enjoy playing with the vast variety of brushes and painting tools.  I mean, come on, we use paper plates as palettes–no big deal here.  .
As an online group, you will be using whatever materials you gather.  Some people paint in watercolors, others acrylics. Some collage, and some draw in charcoals.  This is your time to explore and adventure.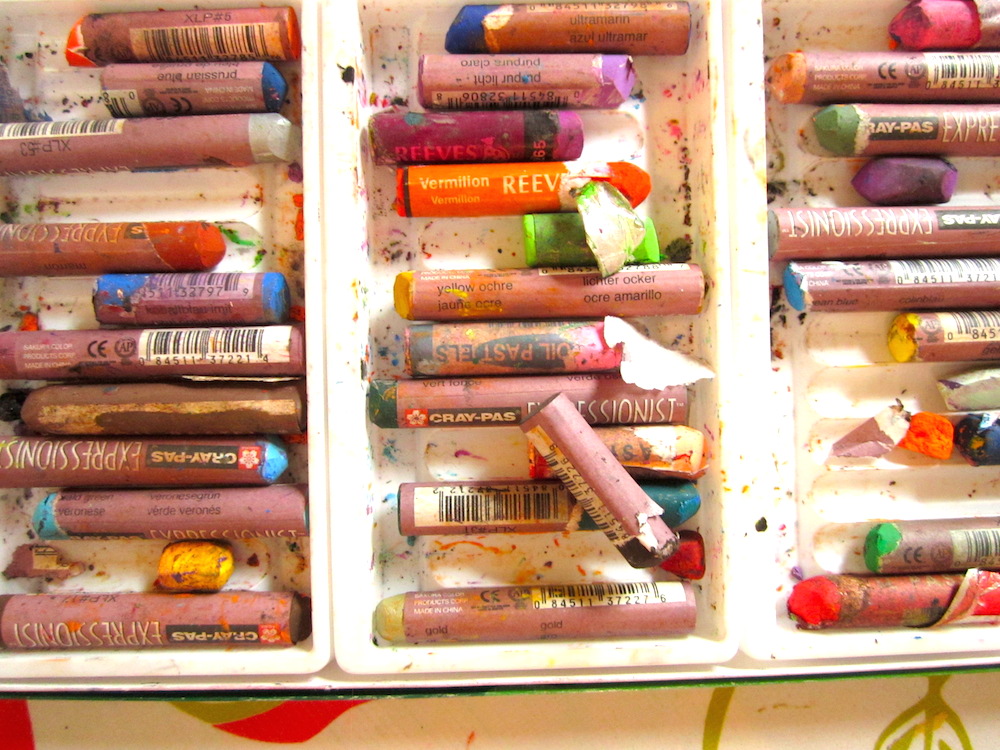 "Today's painting session felt good… to paint…move the paint…move the brush…just be in the process..lost in the moment. There was no purpose..no goal..no need to produce something of value to the outside world. To just paint because it felt good and satisfying."
Schedule a date to try out Wednesday morning class or find out more.