New offer!
I love Show Up and Paint. And so do the painters who have been painting with me on Tuesday afrernoons the last two years. This is why I want to make it more available to more people by offering my new Saturday monthly class November 2nd and expanding my Tuesday class.
What's the class like? Please, come see for yourself!
You are Invited…


to Join Us for a 1 hour 'Taster' of the Show Up and Paint Experience
You've Got Two Dates to Choose From:
Saturday, October 19th
9-10am PST / Noon-1pm EST
or
Tuesday, October 22nd
Noon-1pm PST / 3-4pm EST
We Meet…
Live and Online Via Zoom
In the comfort of your own home or studio
(It's okay if you can't paint in the same room as your computer/device.)
Either October 19th or 22nd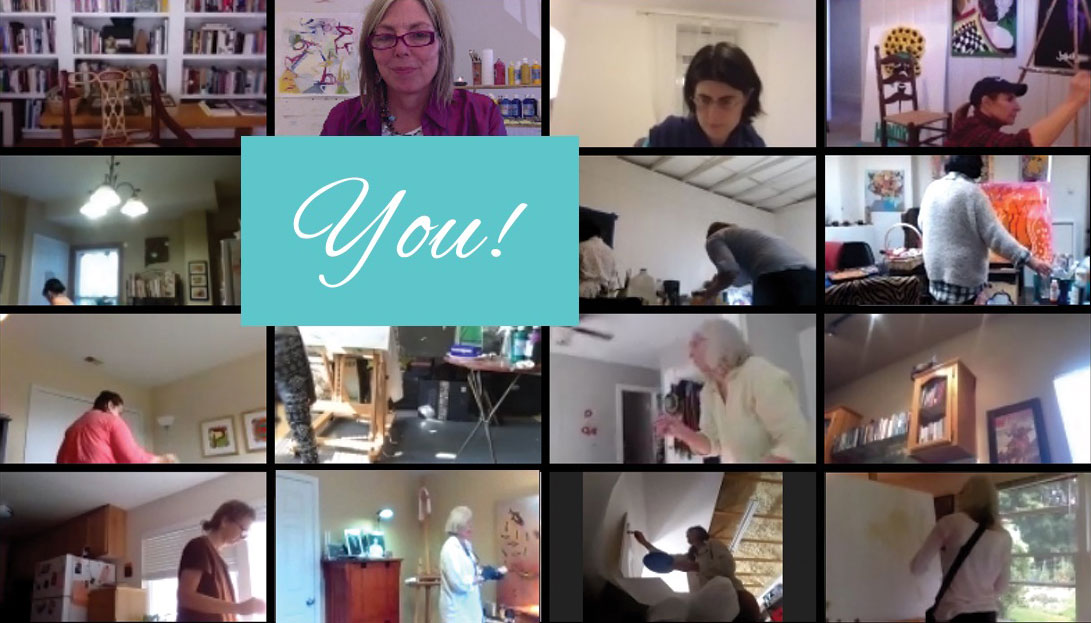 In the Free 'Taster' You Will Experience
What it's like to gather online
Being guided through centering practices before painting
A short period of time for painting, collaging, whatever you choose to work on
Gathering again together as a group for a light check-in and hearing what it was like for others
"I am delighted to express how invaluable it has been painting with you once a week.. Having "my time" with your focused guidance has opened me up as an artist in front of the canvas and in my creative work outside the studio. Thank you."
This is only a TASTE of the Show Up and Paint class, so you won't have the full creativity time that you have in class, but you can get a project started and begin to commit to your creative life now.
It is a bold move to say "yes" to your inner artist in this way. Life is too short to put what we care about most on the back burner for too many years. There comes a time when we need to consciously claim some time for art making—it doesn't get handed to us as adults.
But how to do this with an adult schedule that looks pretty darn full during the week. If you're not particularly inclined to take a regular art class, and you like the idea of being in your own space and free from technical instructions, you may want to try this out.
Show Up and Paint can be a creative oasis for you. You can get going creatively again without shaking up your whole schedule. Tuesday afternoons? Saturday morning? Your choice.
Check it out easily with the Taster and go from there.
Julie is…
Julie is a highly experienced ICF-certified life coach who has mentored hundreds of people over the last 15 years and who knows how to listen.
Interested in the FULL Sessions?
There is both a Saturday, and a Tuesday session.
Any questions or concerns?
Julie's an open book. Send her a message and she'll get back to you right away.